HD 1080
The Treacherous - Die 10.000 Konkubinen (2015) stream deutsch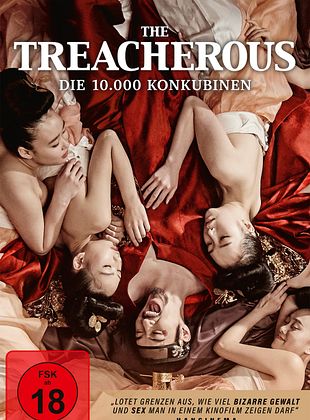 Also Known As

: The Treacherous

Year

: 2015

Runtime

: 133 min. / 02:13

Language

: Stream Deutsch | German Stream

Genre

: KinoX Stream / Filme 2015 / Drama / Historien / Krimi / Thriller

Director

: Min Kyu-dong


Stars

: Ju Ji-hoon, Kim Kang-woo, Lim Ji-yeon, Lee You-young, Cheon Ho-jin, Cha Ji-yeon, Go Kyung-pyo

Kinostart

: 2015
The Treacherous - Die 10.000 Konkubinen (2015) deutsch stream german online anschauen KinoX:
Korea im 16. Jahrhundert. Nachdem König Yeongsan den gewaltsamen Tod seiner Mutter blutig gerächt hat, verfällt er dem Wahnsinn und wird zum sexbesessenen und grausamen Tyrannen. Er lässt zehntausend junge Mädchen und Frauen aus allen Provinzen des Landes entführen, um sie zu seinen Konkubinen zu machen. Die Frauen werden fortan wie Sexsklavinnen gehalten, in der Kunst verschiedenster Sexualpraktiken unterrichtet und intimen Prüfungen unterzogen. Die Beste von ihnen soll auserwählt werden, dem König als persönliche Gespielin zu dienen und einen Thronfolger gebären. Doch dieser perfide Plan gerät ins Wanken, als sich der mächtige Minister Soong-jae, Jugendfreund und engster Vertrauter des despotischen Herrschers, in eine der Konkubinen verliebt. Heimlich rebelliert er gegen den König. Auch die hübsche Konkubine, die von ihm begehrt wird, hegt eine verborgene Agenda. Schließlich eskalieren Intrigenspiel, Verrat und grenzenlose sexuelle Begierden zu einem verhängnisvollen Konflikt. Historien-Eastern mit Erotikelementen nach wahren Begebenheiten.
The story of Joseon's tyrant king Yeonsan who exploits the populace for his own carnal pleasures, his seemingly loyal retainer who controls him and all court dealings, and a woman who seeks vengeance.
Empfohlene Einträge für The Treacherous - Die 10.000 Konkubinen (2015) online
Kommentare zu The Treacherous - Die 10.000 Konkubinen (2015)(0)